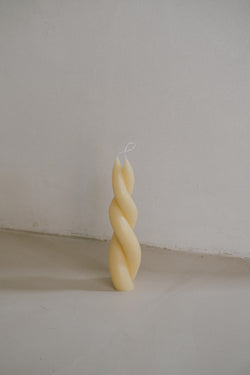 COPITO
Botero Blanc
Self-standing, sculptural twisted candles, inspired by the voluminous curvatures of Fernando Botero's work. Dipped by hand in our studio, these candles require three days to complete from start to finish as they are dipped over 300 times to achieve their width. We twist them much like traditional twisted candles but with a bit more effort.
Measures approximately 26 cm tall x 7 cm wide
They burn for approximately 4 hours.
Our beeswax is sourced from a European ethical beekeepers association. We are committed to only using materials that do not harm the environment, everything is made in-house in our studio in the Garraf region of Spain. 
Every candle is unique in its shape, size and color as everything is made by hand using plant pigments which can sometimes produce an unpredictable variation in color.